One step ahead

in frozen foodstuffs management
Drawing on its experience in optimal management of frozen foodstuffs, the CAP BOURBON team provides customised services and solutions to local companies including stock control, packing/unpacking containers, palletizing/filming, order picking, stocktaking, storage, transformation and packaging.
At Port Ouest, the economic gateway to Reunion Island, our quayside cold store is strategically located for vessel unloading and container loading.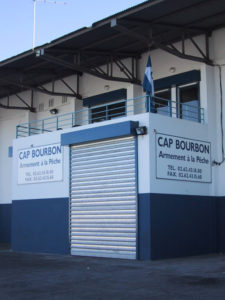 Cap Bourbon's facility is EU Accredited, which guarantees impeccable quality management and complete food traceability, transparency and security. It has a storage capacity of 3 200 m3 (approximately 1 000 palettes), at -25°C and a 2 600 m3 temperature controlled preparation area.
Thanks to the company's advanced stock management system, clients can track their goods online anytime.
Two loading bays can accommodate several trucks and containers simultaneously, for rapid distribution to local and international markets.
Under continual video surveillance and 24 hour alarm monitoring, the site guarantees maximum security for all product in storage.
In addition, CAP BOURBON has its own processing plant, where it packages and markets fish products for the Reunion market.